10th Focal Therapy Symposium: Important Reminders!
09.01.2018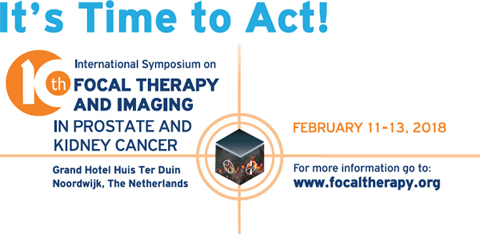 The abstract submission deadline for the 10th International Symposium on Focal Therapy and Imaging in Prostate & Kidney Cancer is right around the corner! Be sure to submit yours before

December 1, 2017

. We thank you in advance for your submissions – your active participation only serves to enrich our educational offerings, guaranteeing a world-class experience for all!
Peruse the Programme
Get a glimpse of the preliminary Symposium schedule and plan your participation in our highly-anticipated workshops, debates, lectures, presentations, and much more. Also note the world-renowned faculty involved in facilitating each session!
MRI Workshop: Space is Limited!
On Sunday, February 11, a special full-day MRI course will be held. This workshop will take a close look at the highly-effective multi-parametric prostate MRI technique, discussing standards in reading, reporting, and more. In the afternoon, the focus will shift to MRI targeted USS guided fusion therapies. There will be opportunities for questions, debates and interactive case studies to help participants synthesize the cutting-edge education received. These MRI topics and techniques are reshaping our understanding of cancer detection and treatment, and this workshop offers you an incredible opportunity to continue your education with the end-goal of optimizing patient care. The registration fee for this special workshop is €170, and seats are limited!
Reserve Your Spot Now and Save
We want to see you in the picturesque town of Noordwijk! We would like to remind you that if you register before December 1st, you'll immediately benefit from a €100 discount. Don't delay any longer! Confirm your presence at this world-class symposium today.

A Truly Interactive Event
Stay up-to-date with the latest developments and enhance your meeting experience before, during, and after the event.

Follow @focal_therapy
and use #Focal_2018

Join the meeting's
facebook page

For any additional information, contact Этот адрес e-mail защищен от спам-ботов. Чтобы увидеть его, у Вас должен быть включен Java-Script
Symposium Organizing Secretariat Erasmus Conferences Tours & Travel S.A.
Telephone: +30 210 7414700 (main line) • Fax: +30 210 7257532
SIU Central Office • 1155 Robert-Bourassa Blvd, Suite 1012
Montreal, Quebec, Canada H3B 3A7
Tel.: +1 514 875-5665 • Fax: +1 514 875-0205
Этот адрес e-mail защищен от спам-ботов. Чтобы увидеть его, у Вас должен быть включен Java-Script
Copyright © 2017 Société Internationale d'Urologie, All rights reserved.