The SIU is pleased to announce that for the first time, the webcasts from the 30th South African Urological Association Congress held on September 18 -21, 2014 are now available online on SIU Academy.

This event featured presentations on important urological topics by high-profile experts, both local and from across the globe. Log in to SIU Academy to view webcasts on various hot topics in urology such as prostate and renal cancer, benign prostatic hyperplasia, minimally invasive surgery and urogynaecology, stones, trauma and laparoscopy, men's health, oncology, paediatric urology, as well as aspects of African urology.

The SIU would like to dedicate these webcasts in memory of a beloved SIU member, the late Prof. Chris Heyns.

An Update on Overactive Bladder Management
By: Prof. Helmut Madersbacher, Austria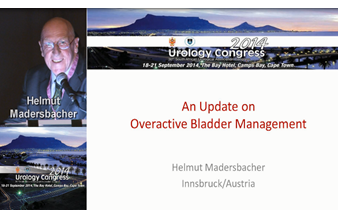 In this presentation, Prof. Madersbacher provides a comprehensive journey through overactive bladder (OAB), from terminology to the most novel treatments. He stresses the misleading character of the condition; exposes the pathophysiology of muscarinic receptors; defines the necessary work-up and the stepped treatment as well as the safety profiles and correspondent expectations. The special emphasis and how he exposes and simplifies the treatment of the "elderly dementia" patient deserves congratulations. A highly-recommended presentation for urologists, even for those dedicated to other fields.
Click here to view a short clip of his presentation.
To watch the complete presentation and more:
| | | | |
| --- | --- | --- | --- |
| | Log on to SIU Academy | | Click this meeting banner in the What's Trending tab |
Navigation Tips
SIU Academy is committed to enhancing the user's experience on the portal. This month, several features of the NavBar have been updated. Click here for a few tips to help you navigate the portal using these enhanced features.
Accessing SIU Academy
Online: Haven't signed up for SIU Academy yet? Register for full access to SIU Academy by clicking here. SIU members can use their existing username and password to access the site. Forgot your password? Please click here.
Via your mobile device: Visit the Talks on the Go and the Poster on the GO websites for more information on how to download the "Talks on the Go" and the "Poster on the Go" apps from your tablet or cell phone and log in using your username and password.