Главная
07.09.2016
07.09.2016
LUGANO, 6 SEPTEMBER, 2016 – Professor Sumitra Thongprasert has been awarded the second ESMO Women for Oncology award1, honouring her position as a role model for women in the profession and for her distinguished career.
This is the second year of the ESMO Women for Oncology award, which was established to acknowledge an individual who has significantly supported the career development of women in oncology.

Prof. Thongprasert has held many important positions in the Far East and internationally. Currently she is the Emeritus Professor at the Faculty of Medicine, Chiang Mai University, and also Director of the Centre of Excellence in Cancer at Bangkok Hospital Chiang Mai, Thailand.
Prof. Thongprasert began her career with a fellowship in haematology-oncology at the Memorial Sloan-Kettering Cancer Centre in New York, after which she returned to Chiang Mai University in Thailand and set up the Medical Oncology Unit. She served as Professor of Oncology at the Faculty of Medicine, Chiang Mai University from 1999–2012.
Продолжение...
07.09.2016
Lugano, Switzerland, 6 September 2016 -- The European Society for Medical Oncology (ESMO), the leading professional organisation for medical oncology, has revealed the four outstanding recipients of its distinguished awards.
Alberto Sobrero receives the ESMO Award for his world renowned research on treatment of gastrointestinal cancer.1
"Prof. Sobrero has not only very broadly and prominently co-authored more than 200 original contributions on very important issues mainly relevant to colorectal cancer where he is considered a leading world expert, but has also cooperated to a large extent within the European Society for Medical Oncology," said Christoph Zielinski, Chair of the ESMO Fellowship and Award Committee, comprised of oncology leaders who select exceptional international researchers and clinicians for recognition.
Commenting on the significance of receiving the honour, Sobrero said: "One always wonders if he is doing well in his professional life: the ESMO Award is certainly the best answer to this questioning."
Продолжение...
22.08.2016
Актуальность
У отобранных пациентов с односторонним, ограниченным пределами органа раком предстательной железы (РПЖ) гемиаблация поражённой доли может быть адекватным способом достижения приемлемых онкологических результатов с меньшим числом осложнений.
Цель исследования
Оценить онкологические и функциональные результаты фокальной высокоинтенсивной фокусированной ультразвуковой (HIFU) гемиаблации при одностороннем РПЖ, ограниченном пределами органа.
Продолжение...
22.08.2016
Актуальность
Недавно была задокументирована взаимосвязь между некоторыми из 23 мононуклеотидных полиморфизмов, открытых за последнее время с помощью чипа iCOGS (Совместное онкологическое генетически-средовое исследование - COGS), указывающих на риск рака предстательной железы (РПЖ), и аспектами агрессивности этого заболевания. Нужно определить применимость этих iCOGS-МНП в протоколе активного наблюдения (АН).
Цель исследования
Определить взаимосвязь между iCOGS-МНП и снижением степени дифференцировки у мужчин, подвергшихся хирургическому лечению и АН по поводу РПЖ низкого риска.
Дизайн, условия и участники исследования
Генотипы 23 iCOGS-МНП были определены у пациентов европеиодной расы с суммой баллов Глисона (СГ) в биопсийном материале, равной 6, включая 950 мужчин, подвергшихся куративному хирургическому лечению, и 209 мужчин, выбравших АН. Клинические и патоморфологические характеристики были документированы у всех пациентов.
Продолжение...
22.08.2016
Контекст
Руководство Европейской ассоциации урологов по мышечно-неинвазивному раку мочевого пузыря (МНИРМП) рекомендует проводить немедленную однократную инстилляцию химиотерапевтического препарата после трансуретральной резекции мочевого пузыря (ТУРМП) всем пациентам с низким и промежуточным онкологическим риском, но эта рекомендация остаётся спорной.
Цель
Определить, какие пациенты с МНИРМП получат пользу от немедленной однократной инстилляции.
Сбор материала
Был выполнен систематический обзор и мета-анализ индивидуальных данных пациентов (ИДП) из рандомизированных исследований по сравнению эффективности однократной инстилляции после ТУРМП с одной лишь ТУРМП при МНИРМП.
Продолжение...
22.08.2016
Последнее обновление ( 22.08.2016 )
Продолжение...
17.08.2016
Dear Aleksandr Shulyak, The highly anticipated 3rd ESU Masterclass on Lasers in Urology will take place from 3-4 November in Barcelona, Spain. Spaces for the masterclass are limited and the deadline for applications is fast approaching! Kindly register on or before 2 September 2016. Here are top three reasons why you shouldn't miss it:
Продолжение...
12.08.2016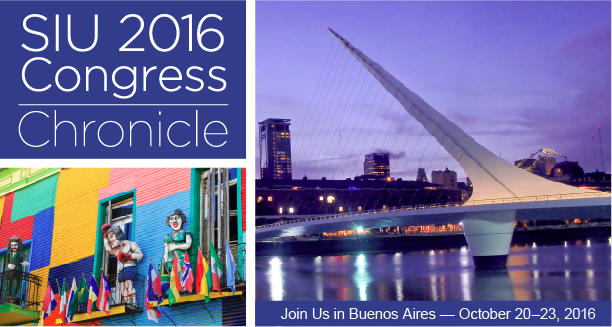 Enjoy Buenos Aires & Earn CME Credits!
01.08.2016
01.08.2016
Последнее обновление ( 01.08.2016 )
Продолжение...
01.08.2016
ESMO, the leading European professional organisation for medical oncology, has announced that the ESMO 2018 Annual Congress will take place between 19-23 October 2018 at the Messe Muenchen, Germany.
The ESMO Congress is the appointment in Europe for clinicians, researchers, patient advocates, journalists and the pharmaceutical industry from all over the world to get together, learn about the latest advances in oncology and translate such progress into better cancer patient care.
"Germany has a long-standing tradition of active participation in ESMO's activities. This is witnessed by the high number of German members, ranking third after the USA and Italy, as well as their ever growing attendance at our events," says ESMO President Fortunato Ciardiello. "Our German colleagues cover many seats in various ESMO committees, in the ESMO Faculty as well as on the ESMO Executive Board, demonstrating the contribution Germany makes to the oncology field and to ESMO. I am pleased that Germany – and in particular Munich, will be our destination in 2018."
Продолжение...
01.08.2016
LUGANO, 26 July 2016 – A major new study has found substantial differences in the formulary availability, out-of-pocket costs and actual availability of anti-cancer medicines across Europe. The ESMO European Consortium Study on the Availability of Anti-Neoplastic Medicines is published today in the August issue of Annals of Oncology (1).
This ESMO initiated survey which gathered data from 46 European countries was carried out in cooperation with researchers from the Union for International Cancer Control (UICC), the Institute of Cancer Policy of King's College London and the European Society of Oncology Pharmacy (ESOP).
Продолжение...
25.07.2016
25.07.2016
Durante sólo dos días, el 9 y el 10 de julio,
todos los que se registren al Congreso
SIU 2016 pagarán la tarifa reducida de
país anfitrión.
| | |
| --- | --- |
| €200 | Residentes, personal médico en |
| | formación y para enfermeros |
Продолжение...
20.07.2016
Bringing confidence to decision making in breast cancerRecent studies in genomic testing are giving us confidence for deciding if breast cancer patients will benefit from having chemotherapy.
Prospective phase 3 PlanB trial of 21-gene Recurrence Score® result in breast cancerBy Oleg Gluz, MDWatch
Последнее обновление ( 20.07.2016 )
Продолжение...
19.07.2016
LUGANO, 7 July 2016 – Details of the first study by one of Europe's largest cancer centres, the Medical University of Vienna (MUV), assessing the clinical impact and feasibility of the ESMO Magnitude of Clinical Benefit Scale (MCBS) in a real-life context are now available on ESMO Open(1).
By systematically evaluating well-established oncologic treatment strategies from first-line to salvage treatment throughout major tumour entities, the MUV team's results show that the ESMO-MCBS works very reliably and reproducibly in the field of advanced or metastatic disease and encourages its use in daily routine.
Продолжение...
19.07.2016
To mark the publication of the ESMO European Consortium Study on the Availability of Anti-Neoplastic Medicines, ESMO President Elect Josep Tabernero will lead a virtual press conference alongside two of the study's authors (Alexandru Eniu and Nathan Cherny) to discuss its findings and its role in making progress towards achieving sustainable cancer care for all patients.
Click here to pre-register for this online event taking place at
Продолжение...
12.07.2016
Guidelines reflect personalized treatment approach
LUGANO, 06 July 2016 – ESMO, the leading European professional organisation for medical oncology, has released new consensus guidelines for the management of metastatic colorectal cancer that reflect an increasingly personalized approach to treatment, as published online today in Annals of Oncology(1).
"Management of metastatic colorectal cancer is becoming more complex, requiring a strategic approach and evidence-based patient selection for the best treatment options," said chair of the ESMO Consensus Conference Professor Eric Van Cutsem, from the University Hospitals Gasthuisberg/Leuven and KU Leuven, Belgium.
Продолжение...
12.07.2016
Phase III trial finds excellent safety and tolerability
BARCELONA-LUGANO, 02 July 2016 – A novel anti-interleukin 1-alpha antibody has shown a significant impact on symptoms, and a high level of safety and tolerability in patients with advanced colorectal cancer, according to phase III data (1) presented at the European Society for Medical Oncology's 18th World Congress of Gastrointestinal Cancer in Barcelona, Spain.
Xilonix is the first monoclonal antibody immunotherapy to specifically target and neutralize interleukin-1 alpha (IL-1α), one of the most potent inflammatory substances manufactured by the body or tumour cells.
"IL-1α in tumours promotes angiogenesis, helping to provide crucial blood supply for tumour growth, and it can also send the body's metabolism out of control, causing it to burn muscle and lose weight," said lead investigator Dr Tamas Hickish. At the same time, IL-1α effects on the brain can cause the fatigue, anxiety and anorexia associated with advanced cancer.
Продолжение...
12.07.2016
12.07.2016
Dear Prof. Aleksandr Shulyak,

Europe's biggest urological event is coming to London next year! From 24 to 28 March 2017, the London ExCel will host the 32nd Annual EAU Congress (EAU17).

Preparations are already in full swing and as of today you can contribute to one of the most comprehensive scientific programmes in the field of urology. The EAU17 abstract submission is now open!

How to submit your abstract?
You can submit your abstract via the online abstract submission system. Faxed, e-mailed or mailed abstracts will not be accepted. Carefully read the Abstract submission rules and regulations before submitting your abstract.
Продолжение...
12.07.2016
Phase III trial confirms efficacy and safety of new second-line agent
BARCELONA-LUGANO, 30 June 2016 – Oral multikinase inhibitor regorafenib achieves significantly improved survival rates compared to placebo in patients with hepatocellular carcinoma, according to data from the phase III RESORCE trial (1), presented at the ESMO 18th World Congress of Gastrointestinal Cancer in Barcelona, Spain.
"Systemic treatment for hepatocellular carcinoma has long consisted of just one agent - sorafenib –which was shown to provide a significant improvement in life expectancy almost 10 years ago, but no other agent has surpassed its benefits," said the study's principal investigator Dr Jordi Bruix, Head of the BCLC group at the Hospital Clínic and Scientific Director of the Network for Biomedical Research for Hepatic and Digestive Diseases (CIBEREHD).
Продолжение...
07.07.2016
BARCELONA-LUGANO, 29 June 2016 – Anti-PD-L1 immunotherapy may achieve a response in patients with microsatellite-stable metastatic colorectal cancer if combined with a MEK inhibitor, according to phase I data presented at the ESMO 18th World Congress of Gastrointestinal Cancer in Barcelona, Spain.
"So far, immunotherapy has only shown activity in patients with microsatellite instability-high colorectal cancer, which is only 5% of the population," says the study's (1) principal investigator Dr Johanna Bendell, from the Sarah Cannon Research Institute and Tennessee Oncology, in Nashville, Tennessee.
Microsatellite instability-high colorectal cancers are associated with a greater number of mutations and are therefore more responsive to immunotherapy with PD-L1/PD-1 blockade. However the majority of patients with metastatic colorectal cancer – around 95% - have microsatellite-stable disease that so far has shown almost no response to immunotherapy.
Продолжение...
<< В начало
< Предыдущая
1
2
3
4
5
6
7
Следующая >
В конец >>
Всего 253 - 378 из 835
Ukraine.UroWeb.ru - Український інформаційний портал урологів (Украинский информационный портал урологов) © 2021